eServices
Registered and verified clients can access the eServices portal 24/7. In the portal, you can download monthly billing statements; update your contact information; add users; make payments; maintain Governing Board information; and keep track of audit release recipients, IPA contracts, and billing information.

Important: You are encouraged to keep your contact information updated.
When you update or add an email address, a verification will be sent to that email.
New Fiscal Officer?
Did you know that Ohio's fiscal officers are required to have an eServices account with the Auditor of State?
Register Now
Training Opportunities
Learn about the wide range of classes, workshops, conferences, and on-demand webinars offered.
Learn More
eServices Demo
A comprehensive video tutorial on how to use the eServices portal, from creating an account to paying bills.
Watch Now
Online Statements and Payments
Whether you are tracking your activity, viewing your Online Statement, or making a payment, these activities are all in one convenient, safe place. Clients can view their account activity online at any time, including charges, payments, and credits. They can also make an online payment using our secure payment processor. Billing statements are generated monthly and an email notification is sent as a courtesy to your email address that is on file with the AOS when a new statement is ready. Billing statements are not mailed.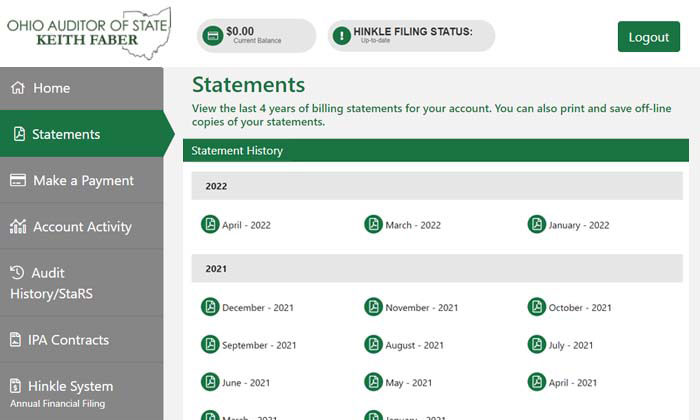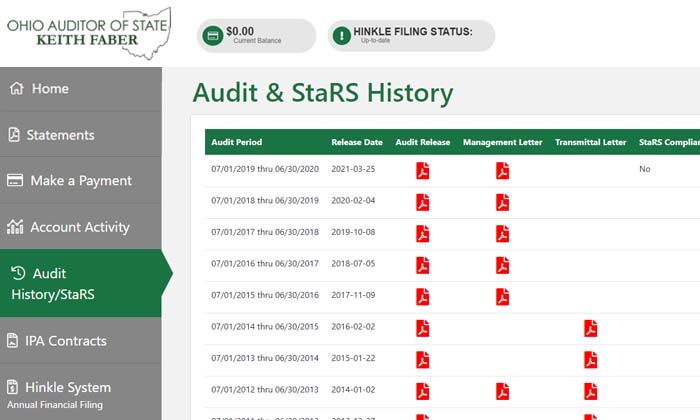 Report History
Clients have 24/7 access to all of their reports, management letters, and STaRS certificates issued by the Auditor of State's Office.
Annual Financial Filings (Hinkle System)
The Hinkle System is an internet-based application that allows certain financial statement, debt, and demographic data to be entered and/or uploaded and transmitted to the Auditor of State (AOS) to satisfy the filing requirements prescribed by the Ohio Revised Code and the Ohio Administrative Code.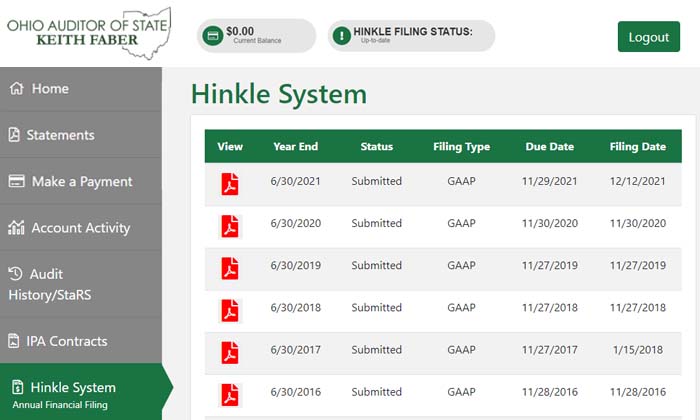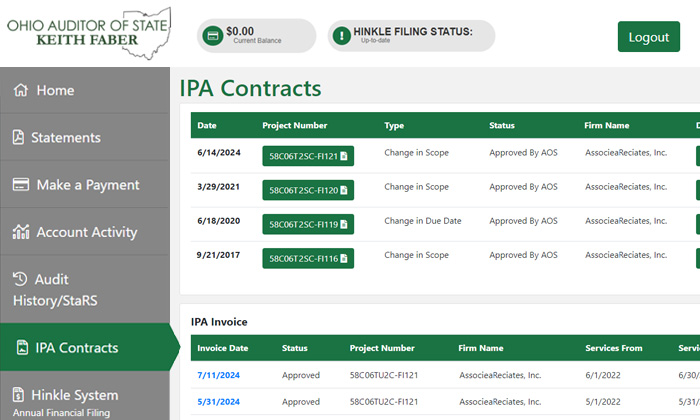 IPA Contracts
Public offices subject to audit by the Auditor of State (AOS) may be contracted to independent public accounting (IPA) firms. Situations may arise during the audit which require a modification to the audit services contract between a public office, the IPA firm, and the AOS.